Written by: Coach Brian Barnett (brian@buildpeakcompete.com)
Remember the last time you ate 8,000 calories a day for 10+ days? I bet you were miserable and it made you question some life choice.
Now do that while pedaling your bike 20+ hours a day for over 10 days, saddle sores that make you cry, 100 degree changes in temperature in 24 hours, and a few restless support crew constantly yelling at you.
It's tough.
Add to that you haven't slept more than 3 hours a day in over a week and you can't focus on doing 2 things at once, like pedaling and chewing. Eventually you don't even remember to pedal.
That's Race Across America (RAAM). You're ready to register for 2018, aren't you?
This rambling post is my recall of how I, Coach Brian, helped feed Brian Toone as he rode his way to the podium with top American and King of the Mountains honors at RAAM this summer.
If you want the narrative of how it all went down, continue reading. If you just came to see what Brian's team fed their RAAM racer for 3000+ miles, you can scroll to the bottom.
First off, I'll note that this was a team effort. We had 2 support crews of 3 people swap off at the mid-point of Brian's ride each "day." We were a mix of dietitians, exercise physiologists, ultra-cyclists or married to Brian and had no choice but to ensure his survival as his life insurance policy wasn't mature. The rest of our amazing support crew managed the logistics behind keeping the 10 total crew members alive, fed, in clean clothes, and transported the crews to places to sleep for a few hours. I'm proud to say none of us died.
I had the easy role in this adventure as Head Dietitian with unofficial roles of bike mechanic, gear manager, and charging station operator. I also had the help of Lauren Parrish, now a sports dietitian for Kansas, helping prep food and buy groceries from our home base RV.
In the ultra-endurance world conventional sports nutrition rules don't always apply.
With around 200 hours of ride time over 10 days, a compromised immune system, nearly ZERO time not moving, and a desire to take as close to ZERO bathroom breaks as possible, things get tricky.
The goal is to consume adequate calories and nutrients with as little volume/bulk as possible.
Some of these riders may be more machine than human and can survive the entire race consuming only Ensure and fluids. Nothing like 10 days of that to get the appetite going.
Others prefer a diet of Thin Mints and orange Gatorade (ahem, Brian Toone).
These "wants" have to be balanced with the NEEDS of the athlete. Thin Mints don't cut it in the vitamin and mineral world and too much fiber leads to extra bathroom breaks (and an increased risk of infected saddle sores). Not good.
So what all needs to be considered for a successful RAAM?
Calories
Volume of food
Fiber
Vitamins
Minerals
Macronutrients
Food mouthfeel/texture
Food fatigue
Ability of that food to expand in the stomach when drinking fluids
Taking all of this into consideration, what did the important person to this story, Brian Toone, eat?
We gave him a different mixture of common foods based on the demands of the day, his physical condition, and his emotional state. Our goals were to give him 300-400 calories in solid food per hour and 2 bottles of Gatorade and water for a least 500 calories per hour.
Average power output for an event like this is under 150 watts for most people and heart rate is between 100-120. At that heart rate and power output riding on flat roads your body can digest foods fairly normally. This is helpful as the demands of a race like this include adequate amounts of protein and fat. Due to the low intensity, fats are largely used as fuel and that means they must be included in the rider's diet. Thankfully they can be digested readily at low exercise intensities.
Onto the Race
The first 3 days of the race came with 100 degree changes in temperature, deserts, mountains, and incredibly dry air.
Brian is from Alabama where the humidity never drops below 60%. He drove from Alabama to California over 4 days before the race, stayed in southern California for another 4-5 days, then the race started. For over a week the humidity never went above ~25%. That becomes important in a few minutes.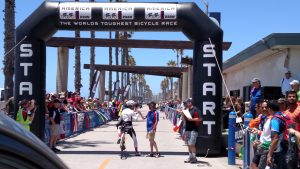 The race started in Oceanside and the first 36 hours were a hard push to Prescott, AZ. This lead to us feeding him a lot of fruit smoothies, occasional protein shakes, and easy to digest wraps to prevent him from making bathroom breaks in the SoCal and Arizona deserts.
Apparently sand isn't comfortable in your chamois and nobody wants scorpions and fire ants stinging where the sun don't shine. Go figure.
A lot of what he was given was as cold as he could withstand in an attempt to prevent his body temperature from rising more (which decreases work output, increases heart rate, and increases caloric expenditure).
This worked out pretty well as smoothies provided a lot of carbohydrates (preferred fuel in hot weather), were cold, contained water, and didn't fill him up for long so we could give him some real calorie bombs every few hours in wraps full of sodium and savory foods to offset the sweet foods and electrolyte losses he was pushing out in his sweat.
We also constantly berated him to keep drinking water and Gatorade to prevent the performance decrements caused by dehydration. There were occasional coffee drinks mixed in once the weather cooled off each evening. We would wait for these at night, not because he was boring when he got tired but, because we could help him rehydrate more easily as he was sweating less.
Rehydrating decreased his heart rate before giving him caffeine, the wonderful stimulant that kept all of us alive during the race (and probably knocked a lot of years off our lives).
We also gave him Clif bars, various granola bars, The Right Stuff mixed into his drinks, Pickle Juice Shots, Gu's, and high calorie Ensure/Starbucks drink mixes (those were largely kept to night time and cooler temps in the Rockies).
The fluids consisted of orange Gatorade (the only flavor he would drink), water, and this electrolyte mix we found in a bike shop in Arizona that had so much electrolytes in it that the bottle was crusty (none of us had heard of it before and I can't remember what it was called. I just remember the bottle was small and dusty).
After the first 3 days we ran into a very interesting problem; the Clif bars were irritating Brian's mouth and he developed sores – remember the low humidity?
His mouth was constantly dry and the oats in the Clif bars rubbed his mouth when he chewed. This prevented him from eating anything that could scratch or irritate his mouth.
For the next several days Brian survived on a mix of gels, electrolytes mixed into his Gatorade, wraps with flour tortillas, smoothies, muffins, and unbeknownst to him coffee drinks mixed with Ensure (we didn't tell him he was actually drinking "that old fart drink" until late Colorado).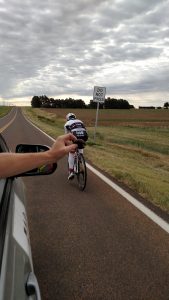 The muffins may have saved the race because they were high in calories, easy to eat, portable, came in many different flavors, available in nearly any little town we drove through, low in fiber and high in sugar which meant they took up very little room inside his stomach and intestines. I was able to get him to add in Nutrigrain bars after a few days as they were soft and added new flavors to diet.
He also ate plenty of egg, sausage, and cheese wraps for something savory. I tried giving him banana, peanut butter and honey wraps but they would drip onto his bike and prevent him from playing Pokémon GO (I'm serious about this. His proudest race moment was passing a rare Pokémon in Kansas and not turning around for it).
This brings up an interesting area for us as the race crossed multiple mountain ranges and Brian wanted the King of the Mountains (KOM) award. He couldn't be fed anything that would make him feel sluggish while climbing for an hour+ but needed more than sugar and carbs so we turned to Ensure shakes. They have several different lines of drinks and we picked one with a good mix of macronutrients for the race.
The climbs through Arizona and Colorado varied in length and incline – some hours long. We would feed him higher carb foods leading into climbs, hand him gels, and keep him in liquids as he climbed.
The goal was to prevent him from feeling full and bloated during any climbs when his power output and heart rate would spike. This worked well in the western part of the US but we had to shift to giving him a few short naps and yelling at him (plus more liquids) through the Blue Ridge Mountains in West Virginia and Maryland.
Side note: The Blue Ridge are a cruel joke from the race organizers as that's actually the section of the race with the greatest elevation gain per mile and also nearly the finish line so riders are riding the struggle bus while hammering to catch anyone nearby. In the last 300 miles of the race a 100 mile lead on someone doesn't mean you're going to beat them.
Back to chronological order – the middle of the country was very boring. Mad props to our drivers Lou and D for keeping Brian in our headlights while descending at night as we went into Kansas. This is where we all went a little crazy due to ridiculous headwinds across the entire state and drastically shifting sleep schedules.
I caught 2 crew members chasing frogs and toads in Kansas.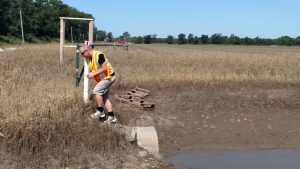 From Kansas to east Missouri it was flat and hot bringing us back to a liquid diet. Brian was also starting to forget to chew as he tried to minimize time losses to bigger guys like Marko Baloh (former 24 hour TT record holder) so we kept his diet to cold drinks, muffins, and Nutrigrain Bars.
It was time to feed his soul and body. Thank you Starbucks for making double frape whatevers that Brian really likes.
Indiana to West Virginia was a great turning point in the race as we started to see hills which are what Brian loves to ride.
We slowly had to shift his food to only low fiber foods, gels, and liquids as he rode the last 550 miles straight through (with a few 15 min naps). It was ridiculously impressive.
This was also the point he turned into that person who can't chew gum and walk at the same time.
Watching him try and eat and pedal would make you really think he didn't have a PhD. This lead to us heckling him over our speaker system and occasionally mixing in something motivational like "you don't suck at this!"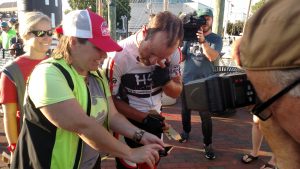 He powered through to a podium finish, the 1st place American, and the KOM Award (the fastest up the climbs). And I'm proud to say he doesn't remember if he hallucinated or not while we were following him over the last miles (so we're saying he didn't).
There you go – in 2,000 words that's how I helped to feed Brian Toone as he competed in RAAM this summer.
This post completely ignores our non-food plans and Brian playing Pokemon GO and talking on Facebook Live which really helped keep him awake. It was an amazing experience that only had me say "eff this, I'm never doing these again" a handful of times knowing that I would gladly do it again.
It was a blast driving across the country at 15mph and I found a crew full of amazing people. The mountains, wildlife, horrible jokes, watching Brian hit 68 mph downhill, and experience are all things I'll cherish forever. This was a very tiring but fun way to spend a few weeks of my summer before going back to playing normal dietitian and teaching at my university.
If you want an in-depth explanation of why we did something email me (brian@buildpeakcompete.com) and I'll gladly answer any questions!
I would be remiss to not talk about our team sponsor, Hope4Gabe. This was not only RAAM but Ride4Gabe v3. Over the last 4 years there have been 3 version of Ride4Gabe, a ride promoting awareness for rare genetic disorders and legislation that could help those affected by these disorders, 2 of which I have provided nutrition support for.
Check out www.Hope4Gabe.com for more information on the non-profit that sponsored Ride4Gabe and our RAAM team. The Hope4Gabe guys saved us a few times with extra essentials such as chamois butter and visits from Gabe himself, a boy with Duchenne Muscular Dystrophy and child the organization was named after. He and Brian took a liking to each other and appearances along the race route did a lot to boost Brian's moral.
Now for the foods list. Prepare yourself, it's not as exciting as you think.
Various fruit smoothies, Ensure, Ensure + coffee, smoothies with peanut butter and chocolate, muffins of all flavors, breakfast wraps (eggs, cheese, and sausage), banana wraps (banana, peanut butter, honey), The Right Stuff, Pickle  Juice Shots, GU, RedBull, Orange Gatorade, Nutella wraps (Nutella and banana), Nutrigrain Bars, Fig Newtons, chocolate covered espresso beans, Snickers, Uncrustables, and plenty of Starbucks drinks (Double Shots and the ones with protein in them).
It's not that exciting but it was all about timing. If Brian was hitting a low point then the Nutella was broken out. If he was about to climb a mountain then Ensure was up to bat. If he needed something to help him feel full breakfast burritos were brought out. That's a very oversimplified breakdown but those foods in combination with sneaking in some fruits and electrolytes kept him free from getting sick and injured during the race.